Mountain Ranges in Turkey
Mountain Ranges in Turkey; Türkiye is a country with a diverse geography, and mountain ranges cover a significant portion of its territory. The Taurus Mountains, running parallel to the Mediterranean coast in southern Turkey, are one of the country's most extensive mountain ranges. The range consists of several sub-ranges, including the Bey Mountains, Bolkar Mountains, and Aladag Mountains. The highest peak of the Taurus range is Mount Erciyes, standing at 3,917 meters.
In the northeast, the Easter Black Sea Mountains, also known as the Karadeniz Alps, are another significant mountain range. These mountains extend parallel to the Black Sea coast and form a natural barrier between the coastal areas and the central Anatolian Plateau. The highest peak in the East Black Sea Mountains is Mount Kaçkar, reaching an elevation of 3,937 meters.
The Anti-Taurus Mountains, located to the east of the Taurus Mountains, run parallel to the Taurus range and are part of the same mountain system. The highest peak in the Anti-Taurus range is Mount Demirkazik, standing at 3,756 meters.
In addition to these major mountain ranges, there are several smaller ranges in Turkey, such as the Ararat Mountains, which are located in the east of the country, and the Uludağ Mountains, situated near the city of Bursa in the northwest. These mountains not only offer stunning natural scenery but also provide opportunities for outdoor activities like hiking, skiing, and mountain climbing.
Legend:
I. – Mountain range with numbering
II. – River
III. – Lake
IV. – Major city
V. – Fault
VI. – Thrust belt
VII. – Graben
VIII. – Volcano with numbering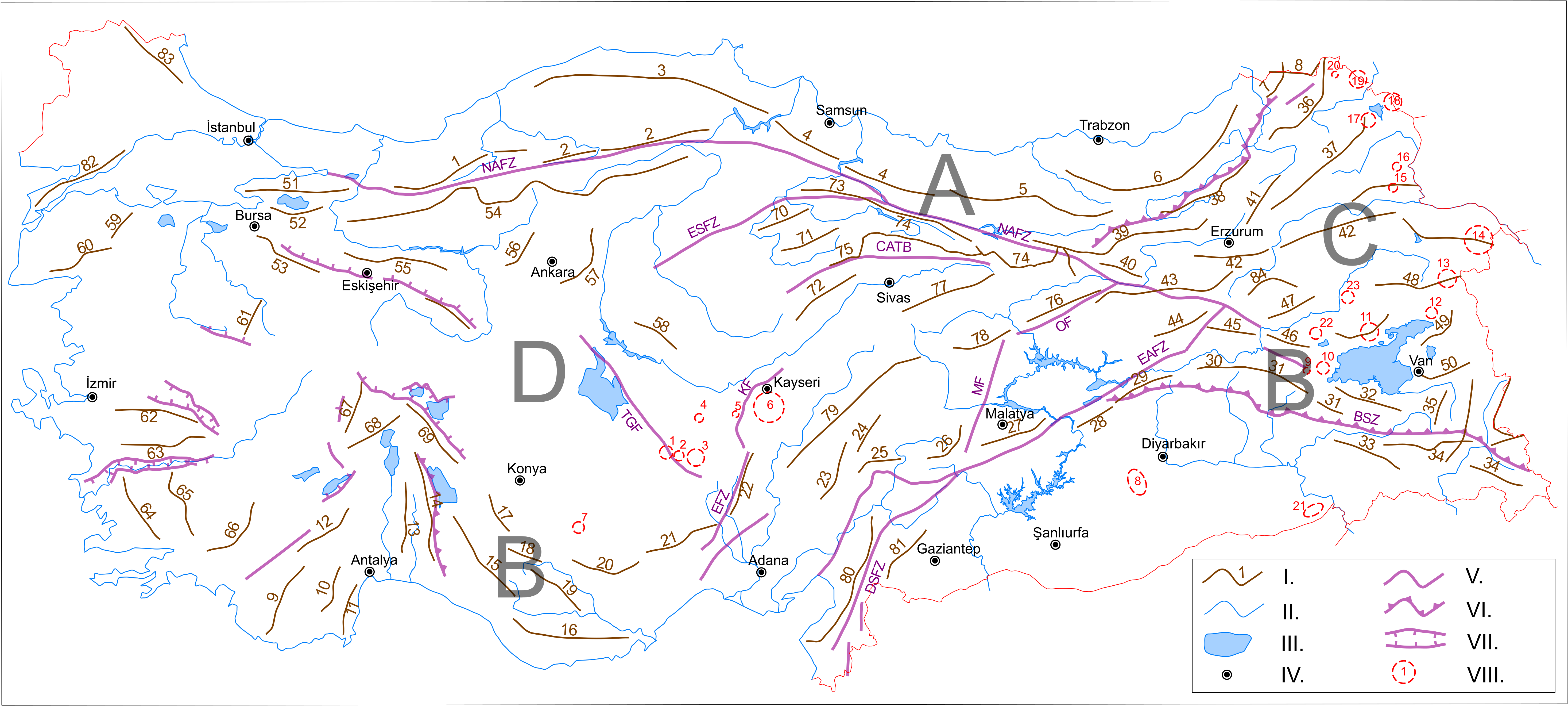 Numbering of mountain ranges and geological features:
A – Black Sea Mountains (Karadaniz Dağları):
6 Rize Mountains
Lesser Caucasus (Kafkas Dağları):
B – Taurus Mountains (Toros Dağları):
11 Yanartaş Mountains
13 Kuyucak Mountains
14 Dedegöl Mountains (Anamas Mountains)
16 Yarımadası Mountains
17 Erenler Mountain
20 Karaman Mountains
22 Mount Taurus Ala Dağlar Mountains
27 Malatya Mountains
29 Akdağ Mountain
30 Genç Mountains
31 Bitlis Mountains
34 Hakkari Mountains
C – Eastern Anatolian Mountains (Doğu Anadolu Dağları):
39 Otlukbeli Mountains
43 Karagöl Mountains
44 Körboğa Mountains
46 Oltuk Mountains
D – Anatolian Plateau and Western Turkey Mountains (Anadolu Platotosu ve Batı Türkiye Dağları):
51 Samanlı Mountains
52 Katırlı Mountains
54 Köroğlu Mountains
55 Sündiken Mountains
56 Abdüsselam Mountains
57 Elmadağ Mountain
58 Kervansaray Mountain
59 Armutçuk Mountain
61 Eğriöz Mountains
62 Boz Mountains
63 Aydın Mountains
64 Beşparmak Mountains
65 Madranbaba Mountains
67 Sandıklı Mountain
68 Karakuş Mountain
72 Ak Dağlar Mountains
73 Sakabat Mountains
75 Camlıbel Mountains
Mountain ranges on the intersection of Turkey Highland, Anatolian Plateau and Taurus Mountains (Türkiye'de kesişen sıradağlar, Anadolu Platosu ve Toros Dağları):
79 Tahtalı Mountains
Southern Middle Mountains (Orta Güney Dağları):
81 Kartal Mountain
Balkan Mountains (Balkan Dağları):
82 Gelibolu Yarımadası Mountains
Individual volcanoes (Volkan Dağlar:
2 Keçiboydaran Mountain
3 Melendiz Mountain
4 Erdas Mountain
5 Hodul Mountain
7 Karadağ Mountain
8 Karacadağ Mountain
9 Gökdelen Mountain
10 Nemrut Mountain
12 Esrük Mountain
15 Yağlıca Mountain
16 Dumanlı Mountain – Tarhandagi Mountain
18 Akbaba Mountain
19 Kel Dağı Mountain / Ziyaret Mountain
20 Ilgar Mountain / Uglar Mountain
21 Alem Mountain
Anatolian Faults and thrusts (Türkiye Fay Hatları):
NAFZ North Anatolian Fault Zone
EAFZ East Anatolian Fault Zone
BSZ Bitlis Suture Zone
DSFZ Dead Sea Fault Zone
CATB Central Anatolia Thrust Belt
EFZ Ecemiş Fault Zone
ESFZ Ezinepazar – Sungurlu Fault Zone
TGF Tuz Gölü Fault Zone
KF Kıyılırmak Fault
MF Malatya Fault Zone
OF Ovacık Fault Zone
Source : Wikipedia