Mount Uludağ
Mount Uludag is one of the most important winter tourism centers of Turkey. With the start of the winter season, people flock to Uludağ for a holiday. During the season, the hotels and facilities in Uludağ also reach the occupancy rate. Every year, many domestic and foreign tourists take a vacation in Uludağ, which has a beautiful view. Uludag, located in the Marmara Region, is also the district of Bursa. Uludag is highly preferred for holidays, especially in winter.
How to go to Uludag?
It is very easy to reach Mount Uludag, which is one of the prominent places of Bursa with its winter tourism. Uludag is located approximately 40 kilometers from Bursa city center. It is very easy to reach Uludag region from both Istanbul and Yalova. It is possible to reach Uludağ from the Black Sea, Aegean, Central Anatolia and other regions in Turkey by sea, air or land.
To go to Uludag, you first need to reach Bursa. People who want to go to Uludağ with their own vehicle can proceed towards the Bursa road side with their private vehicles. If you want to travel by intercity bus, you must first arrive in Bursa. You can easily reach Uludag from Bursa by minibuses.
What are the places to visit in Uludag?
Uludağ, which hosts many domestic and foreign tourists every year, stands out as an important tourism center. Known for its cold environment, Uludağ is dressed tightly to protect itself from the cold. Local delicacies of Bursa can be consumed at breakfast.
Uludag National Park must be seen when you go to Uludag, which is one of the only winter holiday regions of the Marmara Region. Çobankaya Plateau in Uludağ, which is on very steep slopes, is among the places to be seen. Softaboğan, Aras and glacial lakes in Uludağ are among the places that must be seen and visited. The Buzlu and Mirrored Lakes in Uludağ are also among the important points to be seen.
What to do in Uludag?
Tourists who want to have a holiday in the winter season can do different activities when they go to Uludag. Uludag National Park must be seen during Uludag holiday. The national park can be easily reached both by cable car and by road. Uludağ National Park makes a great contribution to ecotourism with its plant varieties and geological structure. When you go to Uludag, you should definitely go to Uludag Ski Center. It was founded on two hills named Fatintepe and Kuşaklıkaya, which are located in the southwest of Bursa. Uludağ Ski Center covers an area of approximately 11 thousand hectares.
What's In Uludag ?
There is an altitude of 1800 meters in the area where the hotels are located in Uludağ. Ski facilities can go up to an altitude of 2200 meters. Uludag attracts many visitors from all over Turkey with its summit reaching 2543 meters. In addition, breakfast in the region consists of very tasty products. Also, for those who want to camp, they can go to Çobankaya Plateau. Camping enthusiasts can camp in Çobankaya Plateau. The area consisting of 150 tents in Çobankaya is also known for having a capacity of 1000 people.
Tourists who want to have a unique holiday in Uludag may want to see the Uludag ski view. To watch the Uludag view, transportation is provided by cable car. Ski lovers can also enjoy snowboarding on the Uludağ ski track. Those who wish can also take ski training in Uludağ. When you go to Uludag, you should not return without eating the famous Iskender Kebab of the region.
Mount Uludağ History
AD II. Since the 16th century, the vicinity of Bursa has been a very important region for Christians, and in different parts of today's Uludağ, A.D. More than 50 churches and monasteries have been established since the 5th century. In history, Olympos was also known as Keşişdağı, called Oros Ton Kalegeron, due to the churches and monasteries it houses. Finally, it was renamed Uludağ in 1925. Iznik, which is an important belief center for Christians, was I. Consul in 325, VII. The consul has met.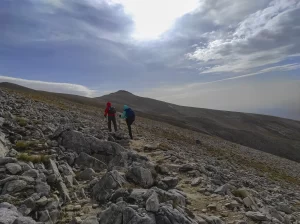 You can follow the current weather conditions for Mount Uludag this site.
The mountain of the mountains, Mount Ararat may also interest you. Please click to read.