Karcal Mountains
The Karçal Mountains are a mountain range in northeastern Turkey that covers a large area. It is known as Turkey's third highest mountain range. The average height of the Karçal Mountains is around 3,000 meters and has many peaks. Some of these peaks exceed 3,500 meters, while others are lower. The mountain range is characterized by wide plateaus, glaciers, deep valleys and steep cliffs. The highest point of Karçal Mountain is 3428 meters.
Karçal Mountains are one of the most important places in Turkey in terms of biodiversity. These mountains stand out with their ecosystem diversity, high endemism rate and rich wildlife. Karçal Mountains, located in the "Colchic" part of the Euro-Siberian Floristic Region, are located within the borders of the "Caucasus and North Anatolian Temperate Zone Forests", which are of priority to be protected worldwide. Tree species such as eastern beech, eastern spruce, chestnut, eastern hornbeam and Caucasian lime and plants such as bearberry, dwarf junipers and laurel are seen in this region. The natural old forests in the Karçal Mountains also offer a suitable habitat for wildlife.
As Karçal Mountains are one of the highest mountain ranges in Turkey, they have typical features in high mountain regions. The geography of the region has been formed as a result of natural effects such as tectonic movements, erosion and glacial erosion. The rocks in the Karçal Mountains are composed of limestone, schist, gneiss and volcanic rocks. The natural vegetation in the region consists of shrubs and forests as it has a humid and harsh climate. Karçal Mountains are also one of the most important glacial areas in Turkey. Glaciers, which span an area of approximately 50 square kilometers, are usually located at high altitudes, with the largest 1-2 km in length. Conservation of glaciers is vital to the biodiversity and water resources of the region.
Sports in Karcal
Karçal Mountains are also an important region for nature sports in Turkey. Many sports such as mountaineering, trekking, camping, skiing and ice climbing can be done in this region. In particular, Kaçkar Mountain peak is a popular mountaineering destination and is visited by many local and foreign mountaineers.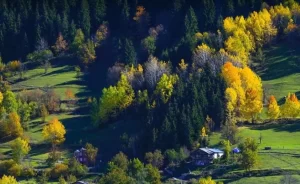 Karçal Mountains attract many tourists with their natural beauties and rich biological diversity. In addition, the plateaus in the region are the places where the traditional transhumance culture continues and are the regions where the local people continue their livestock and agricultural activities.
In conclusion, Karçal Mountains is a region worth visiting with its natural beauties, biodiversity, sports opportunities and cultural richness. If you want to be in touch with nature, hiking, mountaineering and similar sports, you should definitely stop by the Karçal Mountains!
Karcal Moutains Photos and Kackar's location
You can see Karcal Mountains Street View 360 Photos on Google Photos
You may also want to learn about Turkey's highest mountain, Mount Ararat. Please click on the link to read more about majestic Mount Ararat.