Bolu Mountains
The Bolu Mountains are a mountain range located in the northwest of Turkey. The mountain range is part of the larger North Anatolian Mountains that run along the northern coast of Turkey. The mountain range is spread over the provinces of Bolu and Düzce. The mountain range, which starts with the Akrot and Megri Mountains in the north, extends to the east with the Sunnice Mountain. Its total area is about 190,000 hectares. 
Bolu Mountains are known for their rugged terrain and dense forests rising up to 1980 meters. There are many peak points during the mountain range. Akrot and Megri Mountains, Göl Mountain, Çele Peak, Bolu Mountain, Sunnice Mountain are the main peaks.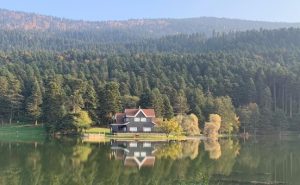 The mountain range is home to a variety of plant and animal species. At the same time, the globally threatened Istanbul hornet, which is an endemic species in Turkey, also lives in the area. The mountain range is home to bird species, Hydrangea woodpecker, forest lark, black woodpecker, and small green woodpecker. Gökdoğan and golden eagle also breed in this area. Apart from large mammals, the area is the habitat of the Abant dormouse, a dormouse species endemic to Turkey. 
There are untouched old forests on the Bolu Mountains, which are considered to be one of the important forest areas in Turkey. Mixed forests with uludağ fir, eastern beech and hornbeam species are seen in areas close to the city of Bolu. On the northern sides of the mountains, apart from these species, there are oak, larch, yellow pine, maple and ash species. The incidence of plants varies from place to place. In general, it is an area where beech, larch and fir species are concentrated.
The area is also popular with hikers and climbers who come to explore the scenic trails and peaks. There are popular trails in the area. Vegetation adorns the magnificent view of the surrounding mountains and valleys. 
Bolu Mountains are rich in history and culture as well as natural beauties. The area has been inhabited since ancient times, and there are many archaeological sites and ruins to explore, including the ancient city of Bithynium and Byzantine castles. 
Overall, the Bolu Mountains offer a unique blend of natural beauty, outdoor recreation and cultural heritage, making them a popular destination for visitors to Turkey.
You can see Bolu Mountains Photos on Google
You may also want to learn about Turkey's highest mountain, Mount Ararat. Please click on the link to read more about majestic Mount Ararat.