Savsat Mountains
Şavşat Mountains is a mountain range that extends from the southern part of Georgia's Adjara region to the northern part of Artvin province in Turkey. The range spans 65 kilometers in an east-west direction and is bordered by the Açaristskali River to the north, the Maçahel River to the south, and the Çoruh River to the west. The Yalnızçam Mountains form the eastern boundary of Şavşat Mountains. The Şavşat district is located in the southeastern part of the range.
Şavşat Mountains: A Natural Treasure in Northeast Turkey
The highest peak in the Şavşat Mountains is Çewa Tepesi, which rises to an elevation of 2812 meters. The mountains are mostly composed of plateau-like areas rich in rock formations such as volcanic tuff and sandstone. The slopes of the mountains are covered with deciduous and black pine forests. The subalpine vegetation grows on the mountain ridges, making it a unique natural habitat for various flora and fauna.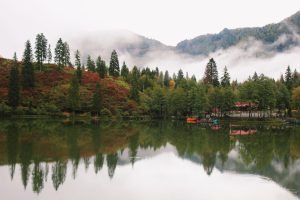 The plateaus of the Şavşat Mountains are home to a diverse array of wildlife, including brown bears, wolves, and lynx. The unique geography of the mountain range makes it an excellent destination for trekking and exploring the natural beauty of the region. Hikers can enjoy the stunning views of the surrounding landscape, while also encountering various flora and fauna. In addition to the natural beauties of the mountains, there are plateaus in the higher parts of the region. The plateaus make a contribution to the region in terms of tourism. It is also perfect for enjoying the unique view.
The Şavşat Mountains are also culturally significant, as the area has been inhabited by various ethnic groups throughout history. The region is home to several ancient churches, mosques, and other cultural landmarks, which offer visitors a glimpse into the rich cultural heritage of the area.
In conclusion, the Şavşat Mountains offer a unique and breathtaking natural landscape, rich with flora and fauna, as well as a significant cultural heritage. The range's proximity to the Açaristskali, Maçahel, and Çoruh Rivers, as well as the Yalnızçam Mountains, makes it an ideal destination for nature lovers, hikers, and adventurers looking to explore the beauty and diversity of Turkey's northeastern region. You should set out as soon as possible to observe the Şavşat Mountains and the surrounding historical and natural beauties!
You can see Şavşat Mountains on Google Maps and Photos
You may also want to learn about Turkey's highest mountain, Mount Ararat. Please click on the link to read more about majestic Mount Ararat.