Seceda Mountain: The Beauty of the Dolomites
On our planet, there are countless places where one can witness the awe-inspiring wonders of nature. Among these, "Seceda Mountain: The Beauty of the Dolomites" stands as a testament to the unparalleled beauty of Italy's Dolomites region. This article will delve into the unique charm of Seceda Mountain, its breathtaking views, hiking trails, and natural splendors.
About Seceda Mountain?
Seceda Mountain, located in the northeast of Italy, is part of the Dolomites mountain range. This extraordinary peak is renowned for its elevation and grandeur. Seceda rests at the highest point of Gardena Valley, offering visitors panoramic views that are nothing short of mesmerizing. The mountain is distinguished by its striking white limestone peaks and lush green valleys. Notably, the most iconic feature of Seceda is its stunning vista, especially during sunrise and sunset.
Nature and Hiking Activities
Seceda is a paradise for nature enthusiasts. The mountain boasts a variety of hiking trails and opportunities for mountaineering. There are several routes to reach the captivating summit of Seceda, each providing a unique hiking experience. In the summer, flower-covered valleys enchant hikers, while in the winter, the peaks are blanketed in pristine, powdery snow. Depending on the season, you can enjoy different aspects of nature.
A Photographer's Paradise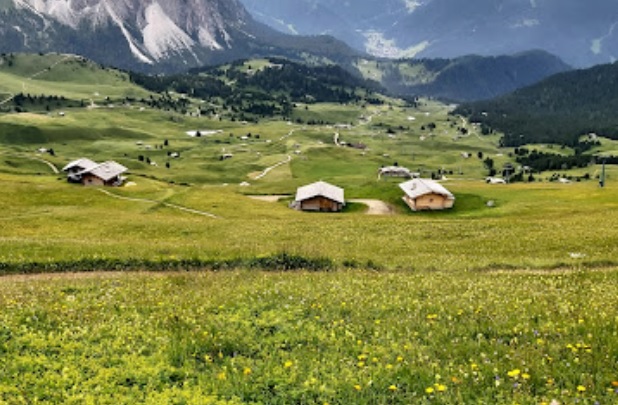 Seceda Mountain is also a haven for photographers. This natural wonder offers unique photographic opportunities at every turn. Throughout the day, the interplay of light and shadow transforms the mountain's beauty from one moment to the next. Sunrise and sunset hours, in particular, provide photographers with unforgettable moments.
Visitor Amenities
Getting to Seceda Mountain is relatively easy. You can start your journey from one of the nearest major cities, such as Bolzano, and reach Seceda in about an hour's drive. Parking facilities are available at the base of the mountain, and there are clear signage and trails for hikers. The region offers various accommodation options and restaurants, making it even more accessible for visitors.7
Cable Car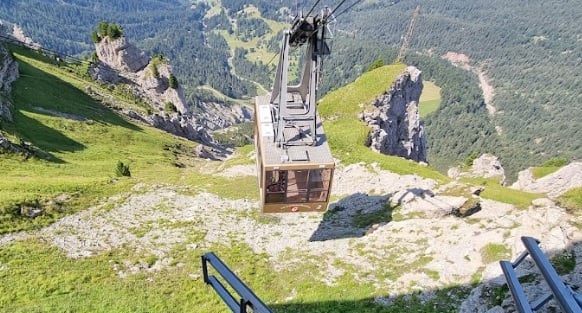 There is a cable car that takes you directly from Ortisei to Seceda, but if you want to enjoy a bit of walking and the scenery, we recommend taking the cable car from Santa Cristina to get to Seceda. The path to Seceda, even though it's uphill, is easy.
Seceda Mountain
Seceda Mountain is a unique destination for nature and adventure enthusiasts alike. With its incomparable natural beauty and hiking opportunities, it provides the perfect setting for creating lasting memories. The view from the summit of Seceda Mountain will leave you spellbound and help you gain a deeper appreciation for the power and beauty of nature. So, if you're considering a visit to Seceda Mountain, start planning your next trip to experience this unforgettable adventure. With an elevation of approximately 2,518 meters (8,261 feet), it promises a truly remarkable experience.
Click For Google Photos and Maps "Seceda Mountain: The Beauty of the Dolomites"
Sass Pordoi Mountain: A Natural Marvel in the Dolomites