Sass Pordoi Mountain: A Natural Marvel in the Dolomites
The Dolomite Mountains, located in northern Italy, are a breathtaking natural wonder, and "Sass Pordoi Mountain: A Natural Marvel in the Dolomites" stands as one of the most striking peaks in this region. Let's delve into more details about Sass Pordoi Mountain:
Beautiful scenery, an amazing experience. The cable car takes you up to an elevation of 2,950 meters from sea level. Tickets for adults cost 27 euros. Every penny will be worth it for unforgettable memories.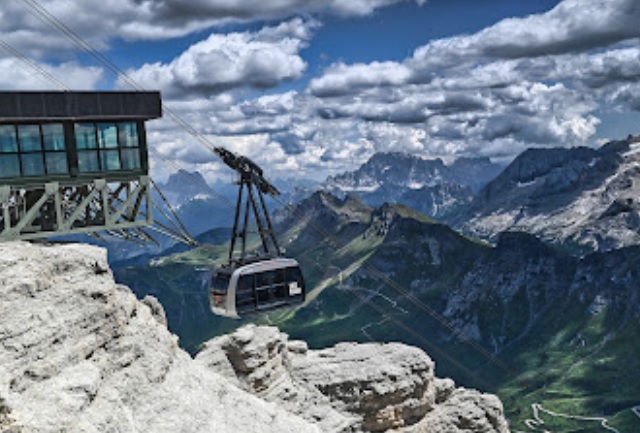 Geographic Location
Sass Pordoi is a peak situated within the Sella Group of the Dolomite Mountains. It is located in the Trentino-Alto Adige region of Italy, in close proximity to the cities of Bolzano and Trento. Standing at an elevation of approximately 2,950 meters above sea level, this mountain is one of the most impressive summits in the Dolomites.
Access
Reaching Sass Pordoi is quite accessible, thanks to cable cars or gondola systems. Starting from areas at the foot of the mountain like Col di Lana and Passo Pordoi, you can embark on a journey to the summit using these modern transportation methods. During the cable car ride, you'll be mesmerized by the stunning Dolomite scenery.
Scenic Beauty
Sass Pordoi offers a spectacular view from its summit. Once you reach the peak, you'll be captivated by the surrounding Dolomite peaks, valleys, and lush natural landscapes. Being at the summit of Sass Pordoi, especially during sunrise or sunset, is an unforgettable experience.
Activities
Sass Pordoi caters to nature enthusiasts and adventure seekers with a variety of activities. Here are some activities you can enjoy around this mountain:
Winter Sports: During the winter months, Sass Pordoi becomes an ideal destination for skiing and snowboarding enthusiasts. The ski slopes and resorts in the vicinity offer excellent conditions for snow sports.

Sass Pordoi snow

Hiking and Climbing: There are numerous hiking and mountain climbing routes around Sass Pordoi. Trails of varying difficulty levels make it suitable for anyone looking to explore nature and the beauty of the mountain.
Cultural and Historical Riches
Sass Pordoi is not only a haven for natural beauty but is also in close proximity to the rich cultural and historical heritage of the Dolomites region. You can discover traditional Italian cuisine and visit historical sites while exploring the area.
In conclusion, Sass Pordoi Mountain stands as one of the most remarkable peaks in the Dolomites, offering a perfect destination for nature and adventure enthusiasts alike. With its enchanting natural beauty, diverse recreational opportunities, and historical charm, this mountain promises an unforgettable experience. Visiting Sass Pordoi is a must for anyone seeking to immerse themselves in the allure of nature.
Click For Google Photos and Maps of "Sass Pordoi Mountain: A Natural Marvel in the Dolomites"