Mount Aiguille du Midi
Aiguille du Midi is a 3842 meter high mountain in the Mont Blanc massif in the French Alps. It is an extremely popular center with around half a million visitors a year. It's close enough for visitors to reach directly from Chamonix at 1035 meters in 20 minutes with the world's most extraordinary and highest vertical ascent cable car. From the terraces here, you can enjoy 360-degree views of the French, Swiss and Italian Alps.
This is the closest you can see the top of Mont-Blanc without hiking or climbing. It's also a starting point for climbing Mont-Blanc. The Aiguille du Midi cable car was first conceived in the early 1900s, but the project was only completed in 1955. It is open all year, except for the annual maintenance period in November and extreme weather conditions.
How to get to Aiguille du Midi.
To go to Aiguille du Midi, you need to reach Chamonix. Chamonix is a county in the province of Haute-Savoie, in the Rhône-Alpes region of France. The town of Chamonix, located at the foot of Mont Blanc, is a world-class mountain sports centre.
World's Steepest Cable Car System
The cable car, which was built in 1955 to reach the summit of Mount Aiguille du Midi, still holds the record as the steepest cable car system in the world. The cable car can reach from 1035 meters to 3.842 km in 20 minutes without any artificial support. It is known that the construction of the cable car started in 1945, but it took a long time due to weather conditions and was completed in 10 years. The mountain, which is one of the most touristic regions of France, also has a terrace so that you can easily watch and photograph the view that will take your breath away.
Skiing on Mount Aiguille du Midi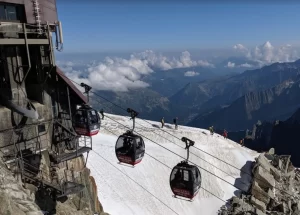 All of the skiers who come for this unique experience start the climb with express belts, carabiners, seat belts, climbing ropes and slings. The biggest risks that can be encountered during the climb are deep ice crevices called avalanches and crossbows. It is also known that the Alps, one of the places where skiing emerged, hosted the 1924 Winter Olympics.
Observation Room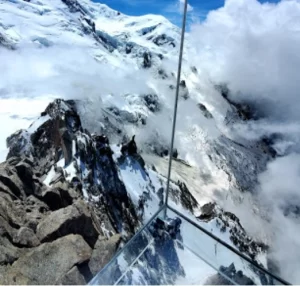 Aiguille du Midi is also making a name for itself as the best-known observation platform in Europe. The journey, which starts with the elevator to reach the platform and is accompanied by the impressive view, continues with the Chamonix Aiguille Du Mindi Cable Car. On the observation deck, there are comfortable seating areas where you can drink your coffee in a safe and warm environment.
You may also want to learn about Turkey's highest mountain, Mount Ararat. Please click on the link to read more about majestic 
Mount Ararat.