Marmolada Mountain: Italy's Majestic Alpine Gem
Italy, renowned for its rich history, exquisite cuisine, and breathtaking landscapes, boasts one of Europe's hidden gems in the form of Marmolada Mountain: Italy's Majestic Alpine Gem. Towering high in the Dolomite Range, Marmolada is the highest peak in Italy, standing tall at 3,343 meters (10,968 feet) above sea level. Its towering presence has earned it the nickname "The Queen of the Dolomites."
Geographical Splendor:
Marmolada Mountain is nestled in the northeastern part of Italy, straddling the border between the Veneto and Trentino-Alto Adige regions. This majestic peak is part of the Dolomite Mountains, a UNESCO World Heritage Site celebrated for its unique geology and striking landscapes. The mountain's snow-capped summit, often shrouded in a pristine white blanket, has earned it the moniker "The White Mountain."
Glacial Beauty:
One of the most captivating features of Marmolada is its extensive glaciers, most notably the Marmolada Glacier. This colossal ice mass is a sight to behold, glistening in the sunlight and extending down the slopes of the mountain. The glacier is not only a visual wonder but also serves as a playground for winter sports enthusiasts, drawing skiers and snowboarders from far and wide.
Historical Significance:
Marmolada Mountain has played a significant role in history. During World War I, it was a hotbed of conflict between Italian and Austro-Hungarian forces. The "Battle of the Dolomites," fought on and around Marmolada, saw soldiers scaling its challenging terrain in a quest for control. Today, remnants of trenches and military structures still stand as a testament to the area's wartime past.
Natural Wonders:
Beyond its glacial beauty and historical significance, Marmolada is home to a rich variety of flora and fauna. The surrounding region hosts a diverse range of plant species, including several endemics, which have adapted to the unique alpine environment. Additionally, the area is a habitat for various wildlife species, making it an attractive destination for nature enthusiasts and photographers.
Outdoor Activities:
Marmolada Mountain offers a plethora of outdoor activities throughout the year. Hiking and mountaineering enthusiasts can explore the numerous trails that wind through the Dolomites, offering breathtaking vistas at every turn. For those seeking an adrenaline rush, rock climbing opportunities abound. Winter visitors can indulge in the thrill of skiing and snowboarding on pristine slopes.
Accommodation and Gastronomy:
To enhance the visitor experience, there are a variety of accommodations, ranging from cozy alpine lodges to upscale resorts, ensuring a comfortable stay. Additionally, the local cuisine is a delightful treat for the palate. Savor traditional Italian dishes with a regional twist, accompanied by fine wines from nearby vineyards.
In conclusion, Marmolada Mountain stands as a testament to nature's grandeur and historical significance. It invites adventurers, history buffs, and nature lovers to explore its diverse offerings. Whether you're drawn to its glacial beauty, intrigued by its wartime history, or simply seeking a pristine natural retreat, Marmolada Mountain promises an unforgettable experience in the heart of the Italian Alps. Don't miss the opportunity to discover this Alpine jewel and witness the grandeur of "The Queen of the Dolomites."
Cable car on Marmolada Mountain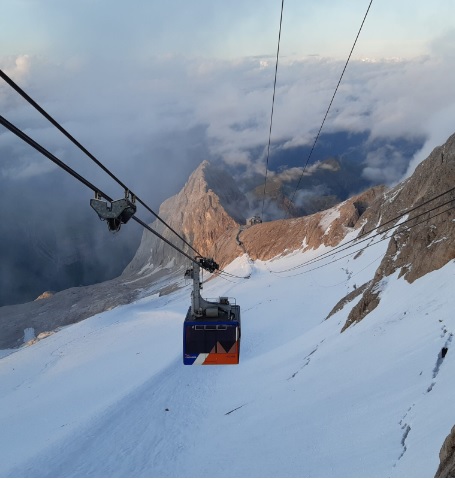 Yes, there is a cable car on Marmolada Mountain. The Marmolada Cable Car, also known as the Marmolada Glacier Cable Car, provides visitors with convenient access to the mountain's summit. It offers a scenic journey from the base of the mountain to the top, allowing visitors to enjoy breathtaking views of the surrounding Dolomite landscape as they ascend.
The cable car is not only a means of transportation but also serves as a starting point for various outdoor activities on the mountain, including skiing and mountaineering. It provides access to the Marmolada Glacier, making it easier for skiers and snowboarders to access the glacier for winter sports.
Please note that cable car operations and schedules can vary, so it's a good idea to check the current information and operating hours before planning your visit to Marmolada Mountain.
Skiing in Marmolada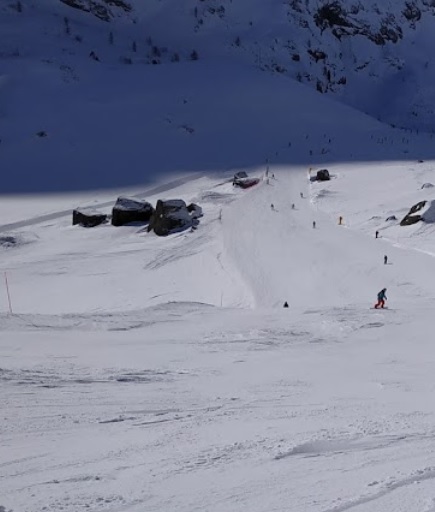 Skiing in Marmolada is a fantastic experience, thanks to its impressive slopes, breathtaking scenery, and reliable snow conditions. Here's an overview of skiing in Marmolada:
1. Marmolada Glacier Skiing:
Marmolada is renowned for its glacier skiing, which is available year-round. The glacier, known as the "Queen of the Dolomites," offers skiers and snowboarders the chance to enjoy the slopes even in the summer months.
The glacier boasts a variety of ski runs suitable for different skill levels, from beginners to advanced skiers. There are gentle slopes for those learning to ski and challenging runs for more experienced skiers.
The wide, well-groomed slopes are perfect for carving turns and enjoying the stunning alpine scenery.
2. Dolomiti Superski:
Marmolada is part of the Dolomiti Superski area, one of the largest ski networks in the world. This means you have access to an extensive range of slopes and interconnected ski resorts.
With a single ski pass, you can explore the entire Dolomiti Superski region, which includes over 1,200 kilometers of slopes, ensuring that skiing in Marmolada is just one part of a much larger skiing adventure.
3. Ski Schools and Rentals:
If you're new to skiing or want to improve your skills, there are ski schools in the area that offer lessons for all levels, including group and private instruction.
Rental shops near the Marmolada Cable Car provide ski and snowboard equipment, making it convenient for visitors who don't have their gear.
4. Après-Ski:
After a day on the slopes, you can unwind in the cozy alpine huts and restaurants located around Marmolada. Enjoy traditional Italian cuisine and warm beverages while taking in the stunning views.
5. Off-Piste Skiing:
For more experienced skiers and snowboarders, Marmolada offers exciting opportunities for off-piste skiing. However, venturing off-piste should only be done with proper equipment, knowledge of the terrain, and awareness of avalanche risks.
6. Winter Activities:
Besides skiing, Marmolada also offers other winter activities such as snowshoeing and ice climbing, providing diverse options for winter sports enthusiasts.
7. Scenic Views:
One of the highlights of skiing in Marmolada is the panoramic views of the Dolomites. The unique rock formations and picturesque valleys create a memorable backdrop for your skiing adventure.
Before embarking on your skiing journey to Marmolada, it's essential to check current weather conditions, lift schedules, and any safety recommendations provided by the resort or ski authorities. Proper preparation ensures a safe and enjoyable experience while skiing in this stunning Alpine destination.
Click for Google photo and map of Marmolada Mountain: Italy's Majestic Alpine Gem
Mount Etna: Sicily's Majestic Volcano