Harder Kulm Mountain: Switzerland's Panoramic Beauty
Switzerland is renowned for its breathtaking landscapes, and it wouldn't be an exaggeration to say that it's a country filled with natural wonders. With its stunning Alpine peaks, mesmerizing lakes, and charming historic towns, Switzerland is a paradise for nature enthusiasts and adventure seekers alike. In this article, we will explore the captivating beauty of Harder Kulm Mountain, which rises just above the town of Interlaken in central part Switzerland.
Beauties of Harder Kulm Mountain
Harder Kulm is a mountain located immediately above the picturesque town of Interlaken in Switzerland. This captivating summit is nestled at the foot of the Alps and is easily accessible from Interlaken. Interlaken, a famous Swiss resort town, is known for its rich natural beauty and outdoor activities, making it a perfect gateway to explore the region. A short funicular ride from Interlaken takes visitors to the stunning vistas of Harder Kulm Mountain.
Panoramic Views
One of the most enchanting features of Harder Kulm is its panoramic views. Upon reaching the summit, you'll be greeted by the awe-inspiring beauty of renowned Alpine peaks such as the Eiger, Mönch, and Jungfrau. Additionally, the crystal-clear waters of Lake Thun and Lake Brienz spread out before your eyes. This magnificent vista is a dream come true for photographers and a must-see experience for nature lovers.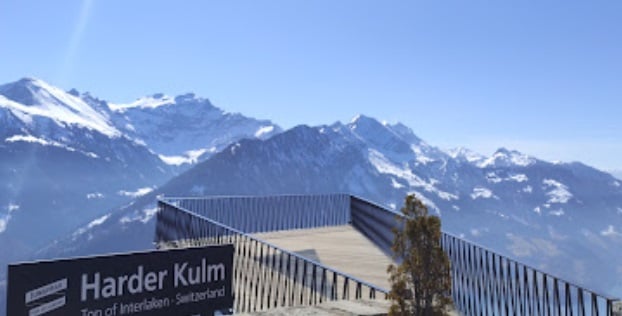 Access to the Summit
Getting to Harder Kulm Mountain is a breeze. A funicular railway from Interlaken carries you up to an altitude of 1,322 meters. The funicular journey, in itself, is an unforgettable experience. Along the way, you'll be treated to visual feasts like lush valleys and flower-covered slopes. Upon reaching the summit, the panoramic view that unfolds before your eyes will more than justify your journey.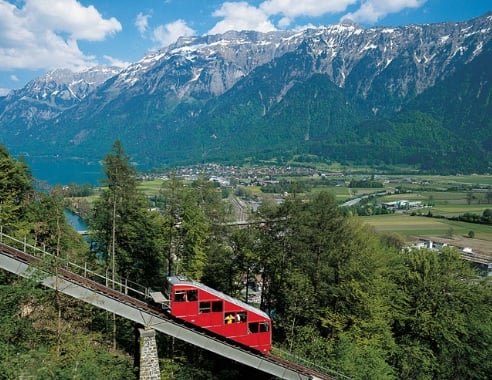 Activities and Restaurants
Harder Kulm doesn't just offer mesmerizing views; it also provides visitors with a range of activities and relaxation options. At the summit, you can savor the flavors of Swiss cuisine in its restaurants, indulging in traditional dishes. Additionally, there are hiking trails around the mountain and terraces where you can soak in the scenery. During the winter months, the summit becomes a popular destination for skiing and snowboarding enthusiasts.
Conclusion
Harder Kulm Mountain is an unforgettable destination for those looking to explore Switzerland's natural beauty. It's easily accessible, and its breathtaking panorama is sure to captivate every visitor. Moreover, the activities and delectable cuisine available at the summit make Harder Kulm one of Switzerland's most appealing tourist spots. If you find yourself in Switzerland, don't hesitate to visit Harder Kulm Mountain and savor the splendor of this natural wonder.
Harder Kulm Mountain: Switzerland's Panoramic Beauty – Click Google Maps and Photos
Mount Rigi: The Queen of Switzerland's Alps